In this Espresso vs Zerodha Review and comparison, we will find out which broker is best for you among both by comparing different services such as brokerage, web/desktop based trading platform (Espresso App vs Kite App), account opening charges, customer service, margin and lot more products both stock broker offers to its clients.
But before we begin let me brief you about a quick fact about both stock brokers i.e. the number of active clients and total clients for both stockbrokers, according to the latest NSE Data, Zerodha is at no.1 position in terms of active clients, they have about 56,14,054(5.6 millions) whereas Espresso have about 1,84,919 active client list within 2 year of its launch.
I know the difference is very high but one need to know, Espresso by Sharekhan have just two year. Looking at this number does shows the trust they have created for users in their products and services within a short span of time.
Whereas Zerodha established in year 2010 and rest is history. Zerodha brought the changes indeed required in the broking industry with his tech innovation.
Zerodha, with his low cost brokerage, technology driven fast services, left the other brokers, majorly the full time brokers such as ICICIDirect far behind the only competition as of now is Upstox for them which is at second position.
Just to let you know, you can read the detail review of Zerodha here, similarly checkout the complete Review of Espresso By Sharekhan here.
Let us now move on to compare these brokers Espresso By Sharekhan Vs Zerodha in detail below step by step, However if you do not have time to read the complete comparison,.
Below is the overall comparison talking about the clear cut and precise information of who is best among Zerodha and Espresso by Sharekhan taking all parameters, by which you can make your decision instantly.
Espresso Vs Zerodha Overall Comparison:
I have already used both stock broker services as well as wrote the reviews about them in detailed way separately, based on my experience and facts below are things you can consider before opening an account with them.
Espresso Broker and Zerodha both have fantastic trading platform for desktop/web/mobile app, you can do fundamental as well as technical analysis quite easily, having said that Zerodha still has an edge over espresso platforms.
Zerodha have third party service integration in its platform such as Sensibull, Smallcase, Refinitiv, Streak, Tickertape etc. there is no such option with espresso as of now.
Espresso brokerages are lower than Zerodha, they charge in equity Rs.20 or 0.01% (whichever is lower) Zerodha charges Rs.20 or 0.03% (whichever is lower) Espresso and zerodha both offers free equity delivery trades as well, but with Espresso there are No brokerage on loss-making trades as well.
Zerodha offers brokerage or say commission free mutual funds investment and platform for its users this is not available at Espresso as of now.
Call and trade charges are Rs.50 for both Zerodha & Espresso, Other charges such as stamp duty, DP, transactions charges remains same for both.
You can expect good customer service from both stock brokers. However Espresso is new and have less clients so better response time.
 With Espresso and Zerodha you can trade and invest in all segments NSE,BSE,MCX.
For a limited time period Account opening charges is zero at Espresso and AMC is Rs.400 per year, whereas Zerodha do charges one time fee of Rs.200 for equity and Rs.300 for (Equity, FNO, Currency, commodity) and Rs.300 for AMC.
Espresso has brought EMF, exchange margin funding as a new product to give higher leverages even for delivery based trades which is not available with zerodha. This is very unique and rare feature to get up to 3X time leverage.
Myespresso another unique feature includes giving free daily intraday trading recommendations to its users on its platform, which helps beginner traders and investors this is not available with Zerodha.
If we talk about Margin at Espresso Vs Zerodha, after SEBI Rules on Intraday margin every stockbroker is giving same margin 5X throughout India, hence this does not matter anymore.
Other than this You can also invest in IPO's/NFO, ETF, SGB, on both stock brokers platform.
Overall, Zerodha when compared on all parameters is still have an edge over Espresso as of now.
Open Free Espresso trading/demat account through this link for a limited time period. Also get additional benefit Such as 1 year MoneyFlix subscription free and also a 30% discount on Espresso trade booster program.
To open a Zerodha trading/demat/mutual fund account click on this link.
Now, let us go dive deep to cover all different services and features of Espresso Vs Zerodha  step by step and see who is best between both discount brokers by doing in depth analysis.
About Espresso Vs Zerodha:
Before we dig deeper to understand the various services offered it becomes utmost import to know in brief about Zerodha and Espresso history.
Sharekhan has launched a separate entity called Espresso for discount brokerage services. Sharekhan is one of the largest brokers in India, was founded in 2000 and a subsidiary of BNP Paribas since November 2016.
Sharekhan offers a wide range of savings & investment solutions including equities, futures, and options. Currency trading, portfolio management, research, mutual funds and investor education.
Espresso got launched on September 22, 2020, R. Kalyanaraman is the CEO of espresso and have worked tirelessly to build a unique platform for traders and investors.
As per the CEO R. Kalyanaraman and I am quoting "Espresso isn't just an interface. We're in it for the long run. We're in it to help you to succeed. That's why we got our platforms Beta-tested by trading and investing enthusiasts. We didn't stop there, though! With our Pay Only When You Profit pricing model, our endeavor is to ensure you keep at it and get better and succeed. We are here to help you achieve that, backed by our Sharekhan experience."
Espresso offers trade execution facilities for equity cash and derivatives segments on BSE and NSE, commodities trading facilities on MCX and NCDEX as well as in currency segment.
They have partnered with both CDSL and NSDL for depository services. The basic idea of espresso is to help clients succeed by ensuring that they have more money in their hands by not paying brokerage on loss-making intra-day trades, or simply put ''pay-when-you-profit-pricing model".
Open Free Espresso trading/demat account through this link for a limited time period. Also get additional benefit Such as 1 year MoneyFlix subscription free and also a 30% discount on Espresso trade booster program.
Nithin Kamath, founder and CEO of zerodha established the company in year 2010 and rest is history. The term 'Zerodha' is derived from the blending of an English and Sanskrit word. 'Zero'+'Rodha' where 'Rodha' means barrier in Sanskrit, thus zerodha means 'Zero Barrier'.
Zerodha headquarter is situated at Bengaluru, and it is associated with all three major stock exchanges in India NSE, BSE & MCX. Zerodha has partnered with both NSDL & CDSL to provide the depository services to clients.
You can trade and invest in Equity, Derivatives i.e. Futures and Options, Commodities, Currency, Mutual funds, Bonds etc. online using their advanced trading platforms without hassle.
They do have a dedicated platform for mutual fund investments through monthly SIP as well as Lumpsum in mutual funds known as Coin without any commission similar to what Groww.
Let us now move on to know the margin at Groww Vs Zerodha
To open a Zerodha trading/demat/mutual fund account click on this link.
Espresso Vs Zerodha Margin Comparison:
Margin in stock market refers to buying/selling of securities (shares) by borrowing money from your broker. This is very much similar to taking loan for short period of time. This helps traders in buying or selling more with less money in intraday trading.
If you are an active trader or a beginner who knows what exactly going on with recent changes brought by SEBI, Higher Margin won't be a factor anymore, now the competition among the broking industry is in terms of better trading platforms and lower brokerages plans.
The upfront margin collection in cash segment has been kept at flat 20%, which means now the leverage for all stocks would be 5x also the penalty provision for short-collection/ non-collection of upfront margin in cash segment.
This means regardless of any broker you won't get more than 5X times margin in equity cash segment and in FNO you need to have the full margin span+exposure to take any position.
You can read more about it here.
Therefore, the margin or leverages offered will be equal irrespective of the stock brokers in India going forward. Keep in mind this also applies to Currency and commodity derivatives as well.
For example: if there is a 20% margin requirement on a particular stock, then you will have to pay only Rs.20 to buy a stock of Rs.100. Another way to look at it is that if you have Rs.100, you will be able to buy five stocks instead of one.
Hence, the margin requirement will be same for all brokers including Espresso and Zerodha for intraday trading in equites and derivatives.
One need to understand taking more margin means more risk and chances of your money getting wiped out is even more, so it is always advisable to use it in limited way.
So going forward please choose stock broker not in terms of margin or leverage as it is same for all brokers through out India.
Espresso Vs Zerodha Brokerages Comparison:
Brokerage is the most important factor when you trade and invest, both Zerodha and Espresso have quite low brokerages. Let us know brokerage for both discount brokers one by one.
Espresso Brokerage Structure:
First of all the brokerage charges are kept at decent Flat Rs 20 per order, For Intraday trades across all segments (Equity, F&O, Commodity and Currency). There are no brokerage charges for delivery based trades at espresso. Moreover, No brokerage on loss-making trades, Let's break it down with an example:
Suppose you make 20 trades a day every trading day of a year
20 trades a day x 250 trading days = 5,000 trades
5,000 trades x Rs 20 per transaction = Rs 1,00,000
Assuming 40% are loss-making trades, you don't pay brokerage worth Rs 20,000!
Now let us how espresso brokerage structure works with another example. Suppose you bought TATA Motors 1000 shares @Rs.200 and sold the same @Rs.196, which means you made a loss on the trade. Therefore espresso will only going to charge you one side of the order either buy/sell as it was a loss making trade.
Isn't great that you don't pay a penny on your loss making trades by using espresso stock broker. Another thing you must know in equity cash segment the brokerage charges are kept at 0.01% or Rs 20 for every executed order (whichever is lower).
What they mean is, suppose you bought stock xyz priced at Rs.100, quantity 100 on intraday basis,
so the total turnover would be bought 100, sold 100(100*200)=  20,000 on this amount they will charge either whichever amount is lower as 0.01% of 20000, is Rs.2 so they will charge that instead of flat Rs.20.
For all other segments such as derivatives (FNO) IN Equity, Commodity and Currency the brokerage charges at espresso are kept at Rs 20 for every executed order, also Zero brokerage on square-off orders in case of loss.
Zerodha Brokerage Structure:
Zerodha brokerage is what make them ahead in the game, as you can see , there is no charge for taking delivery of the trades to your demat account. Whereas for intraday trades across equity, currency, commodity, it is flat Rs.20 or 0.03% (whichever is lower).
What they mean is, suppose you bought stock xyz priced at Rs.100, quantity 100 on intraday basis,
so the total turnover would be bought 100, sold 100(100*200)=  20,000 on this amount they will charge either whichever amount is lower as 0.03% of 20000, is Rs.6 so they will charge that instead of flat Rs.20.
So, Overall if we see Espresso brokerage is lower than Zerodha as of now. 
Espresso Vs Zerodha Account Opening Charges:
If we talk about Espresso
To open a trading/demat account at espresso there are no charges Rs.0 for a limited time period if you open an account through this link. Whereas the Annual Maintenance charge (AMC) is Rs 400/year + GST charged quarterly.
Moreover, Get additional benefits with Espresso when you open an account through this link. Such as 1 year MoneyFlix subscription free and also a 30% discount on Espresso trade booster program.
MoneyFlix is the world's first financial movies platform! Whereas trade booster program of espresso is provided by subsidiary company Sharekhan Education.
I think its a win-win deal for you as there are no charges to open the account for a limited period offer*.
Whereas If we talk about Zerodha, Account opening charges are (one time) Rs.200 for Equity and Rs.300 for Equity, FNO, Commodity, Currency segment. Moreover you also need to pay Rs.300 Annual Maintenance charges i.e. AMC in a year on quarterly basis which gets deducted from your trading account balance.
Likewise, Coin which is a dedicated mutual fund platform for zerodha users are free to use with 0% commission charges. Click here to open an online hassle-free paperless account with Zerodha .
So, overall Espresso is best as it is not charging anything at all for account opening of trading/demat in comparison to Zerodha.
Espresso Vs Zerodha Account Opening Process Online:
The account opening process is online and it's very seamless and smooth. Here is what you need to do:
To open an account with Espresso online, you can sign up using your mobile number through this link.
Similarly, To open an A/c online with Zerodha , Click on this link and first enter your mobile number.
You will receive an OTP to your number and you can get started with the process.
You will be required to enter your PAN, Bank account details and personal details to continue with the sign-up.
Once you sign up you need to upload certain documents listed below:
1. Your PAN card
2. Your Aadhaar
3. To complete the e Sign process, you will have to authenticate it with an OTP. So, make sure you have the number linked to your Aadhaar handy. If not, you will not be able to complete the process. If the number linked to your Aadhaar is inactive, or if you don't have any number linked, then you can visit your nearest Aadhaar Seva Kendra to get it updated.
4. A photo or scanned copy of your signature proof will be required to be uploaded.
6. Income proof –
It is mandatory to submit income proof if you wish to trade in Futures and options – Equity, Commodity, and Currency.  You can submit one of the below documents.
Form-16
Income tax returns acknowledgment
6-month Bank statement
Latest salary slip
Demat holding statement, or
A CA certifying your net worth
Note: The documents mentioned are for a Resident Individual Account.
Espresso Broker Vs Zerodha Trading Platform Comparison:
Let us talk about Espresso trading platform in detail first:
There are 3 trading platform offered by Espresso for all devices:
Binge (downloadable version) for desktop/laptop
www.myespresso.com is the web version 
Espresso Discount Broking Mobile App
I won't be discussing all the types of platform instead will disuses the Espresso Trading platform for desktop version, as the post will unnecessary be long you can read more about it here
Espresso Binge Desktop Based Trading Platform:
With Espresso Binge unleash the power of trading using Experience class charts, real-time feeds, multiple market scanners and much more to lend a hand to your trading. It has all the features required to be one of the best trading platform in India.
Advanced market sentiment tracker
Advanced market-watch tools that aid data visualization and decision-making
View multiple market data points at one glance
One click creates script and indices heat map
One click to view the advance/decline of indices
A watchlist that's simple and hassle-free
Quick updates that help you stay ahead of the curve   
Super-quick price updation
Real-time price-based signals
Support/Resistance levels to aid decision-making
The user interface is so clean and up to the mark, you can easily know which icon will do what, as the moment you will hover to any it will tell you the functionality of it.
Peer tracking beyond highs and lows
Track all-time and 52-week highs/lows of multiple stocks together
Track multiple stocks' performances across different time frames
If you trade in Futures or Options than this downloadable platform is worth using. You have different tools to help you in trading FNO such as option greeks calculator, option chain, implied volatility tool, black and Scholes calculator in-built.
Get the power of charts with Espresso Binge
Real-time feed updates across all segments
Enjoy multiple views free of cost
Customizable top menu bar
Link your market-watch across Exchanges/scrips and time
View and operate on 6 charts with a single click!
Choose and use the best candlestick patterns or other different types of chart such as Renko chart, Bar chart etc.
Espresso Binge has all the required charting and more than 100+ indicators indicators like major ones MACD, BOLLINGER BANDS, RSI, S&R, Volume etc.
Open Free Espresso trading/demat account through this link for a limited time period. Also get additional benefit Such as 1 year MoneyFlix subscription free and also a 30% discount on Espresso trade booster program.
Let us now check Zerodha trading platform in comparison to Espresso in a detailed way:
Zerodha is known for its best trading platform since inception, they have 3 dedicated platforms for its users:
Zerodha Pi for desktop, which is a downloadable version
Zerodha Kite for Web, which a browser based trading platform
Zerodha Kite Mobile App, which a mobile App
It is not possible to discuss and compare all types of trading platform versions, thereof I will be discussing only web based version i.e. zerodha kite browser based trading platform, you can read the complete review here for zerodha platforms:
Zerodha Kite Web Based Trading Platform Review:
Zerodha Kite is a web or say browser based trading platform, which can be opened on any web browser you use. Just like a website but with all the tools and resources needed.
All zerodha trading platform are very secured, because of its 2 factor authentication, you need to enter the password and than a 6 digit pin to login. Once logged in you will see this page: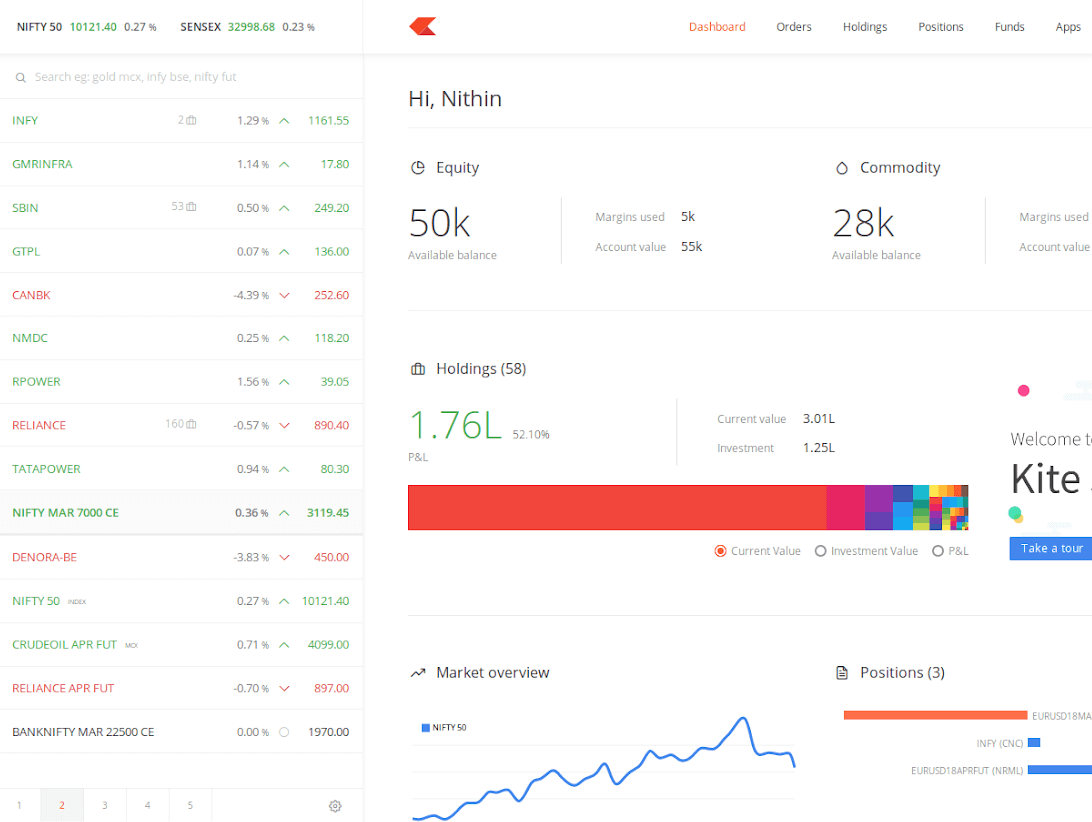 On left hand you will see the market watch, from here you can add or delete the scrips. When you move and hover over any stock it will give you different option like charts, market depth, buy sell order and many more.
Below image shows when you click on to know the market depth, (just to let you only zerodha as of now have the facility for level 3 data), what it means, the market depth that you will see have more depth , usually most other brokers will show only 5 best bids but zerodha shows 20 data for buy and sell orders.
Doing technical analysis at zerodha is a blessing, with all the necessary tool and free resources available at one place, one can create, back-test & deploy whatever strategy they want. Zerodha gives Trading View charts along with ChartIQ on both web and mobile application.
With zerodha kite platform you get the maximum no. of indicators you want in life. They are just one click away.
You can display and use any type of chart with different candlestick patterns
You can also draw trend-lines, Fibonacci arc, cross-line on the chart itself.
Similarly the mobile based version i.e. Espresso Mobile App have same features as I mentioned above and Zerodha Kite also have similar features, but without any doubt Zerodha Kite mobile app is better than Espresso App as of now.
Overall Zerodha in comparison to espresso trading platform offers much better user interface as well as they have many other services integrated within the platform such as Sensibull, small case, tickertape, streak, Refinitiv etc.
While Espresso need to come up with other integrated tools and resources yet, they do however have great technical and fundamental tools and resources.
Open Free Espresso trading/demat account through this link for a limited time period. Also get additional benefit Such as 1 year MoneyFlix subscription free and also a 30% discount on Espresso trade booster program.
To open a Zerodha trading/demat/mutual fund account click on this link.
My Opinion On Espresso Vs Zerodha:
I hope you have now thoroughly understood most of the services offered by Espresso by Sharekhan and Zerodha, if you ask me in Espresso vs Zerodha who is better?
Zerodha in itself is the universe, whether you are a beginner or experience trader and investor, zerodha has all resources set at one place for you.
Expressing my opinion in terms of all technological tools, advanced platforms, robust management I would rate Zerodha 9.5 out of 10 and hence is better than Espresso in overall comparison as of now.
To open an account with Zerodha right away click on this link.
On the other hand
Espresso by Sharekhan might be new in discount broking industry but as we know being a subsidiary of Sharekhan it has support as well as the experience that any new start-up requires.
Having said that, Espresso seems to be a perfect choice for anyone who is looking to open an trading/demat account, moreover there are no charges as of now to open an account so nothing to lose at all.
It is a win-win choice for you as an trader or investor. Espresso by Sharekhan has all that is required for being one of the best in broking industry, If I have to rate Espresso after looking at there breakthrough pricing model for brokerages as well as other charges and experiencing there simple yet great user interface for trading platform I would give it 9.3 out of 10.
So, go ahead and Open your Trading/Demat account with Espresso online, paperless and absolutely free through this link for a limited time period within few minutes.
In my opinion you can open account with both stock brokers, as there is nothing to lose. Always have atleast 2 to 3 trading and demat accounts, it gives you more different experience of platform and different services offered by them.
Best Stock Broker In India In 2022 – Caution You May Get Surprise After Seeing Them
If you are a beginner in trading and investing, please read this amazing guide on How stock market works in India?
Learn the basics of option trading step by step here.
Also, do checkout moneycontain inflation calculator to know how much inflation make an impact on your savings and investment here.
Looking for fixed monthly income than Post office monthly scheme calculator can definitely solve your problem.
Want to know how much you need to save and invest in order to achieve your retirement goal, than do check moneycontain retirement goal calculator with inflation.
6 Best Mobile Trading App In India – If You Do Not Have Any, Then You are Missing
If, you have liked the content please do share it with your friends or on social media, as sharing do bring the good karma. If you have any questions or feedback you can leave them in comment box below.
Note: Please do your own research and make investment. Moneycontain will not be responsible for any of your losses at all. The point made is for educational purpose only and intended to give information. All investments are subject to risks, which should be considered prior to making any investments.